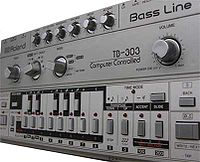 a while back I posted a link to some old skool house mixes from the late 80s. These were pretty good, but in reality they were a bit too soulful even for me – I'm not as into the vocal, soulful, almost gospel style of house music from those days – I personally prefer the more hardcore acid house that also surfaced during that time.
naturally I started looking around the web for some good mixes, and by searching for "acid house podcasts" I managed to find the page of DJ JuJu, a British DJ from South London (now living in Norfolk).
I've never heard of him myself, but this fellow has a pretty good grasp of the acid. His site has a series of free downloads of mixes ranging from acid to vocal to hip house, and I've linked to them below.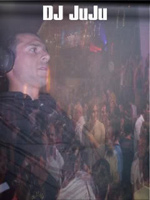 Classic House Part 1: Vocal house and garage from '88 to '90. Some big tunes in here (like Tribal House's Motherland and Sweat by Jay Williams at the end of the mix), though as I have mentioned I wasn't as big into the vocal house as I was the other stuff.
Classic House Part 2: More classic vocal house. Listen for Chanelle's One Man and the Steve Hurley mix of Ten City's That's the Way Love Is.
Classic House Part 3: Deep classic house from '88 to '90. The instrumental version of ESP's It's You is one of my favorite house tracks of all time (and so much better than the vocal version), and Can U Dance by Kenny 'Jammin' Jason & Fast Eddie is guaranteed to bring it back.
Classic House Part 4: An awesome mix of acid house and Detroit techno, some of my favorite genres. Reese & Santonio's The Sound is a true classic, (love that 808 drum line), plus there's Ride the Rhythm's This Ain't Chicago for a killer acid line and the jammin' Work It to the Bone by LNR.
Classic House Part 6 (there is no part 5): Some hip house classics. Yet another of my favorite genres of classic music! I recommend you skip the first part of the mix and start at minute 25:00. From there you've got the 1997 remake of Doug Lazy's Let It Roll called Rollin' On, the club mix of Mr. Lee's Get Busy, Musto & Bones' Dangerous on the Dance Floor, I'll House You by the Jungle Brothers, Fast Eddie's Yo Yo Get Funky and the white label Planet E. Seriously, this stuff is tremendous. If you don't like this stuff you may in fact have no soul.
and this next mix isn't a classic house mix, but…
JuJu 4 Hour Radio Show 19th April 2009: A mix of classic techno and rave music, for the most part. This is a massive four hour mix, containing three of my favorite classic techno tracks, Tronik House's Up Tempo and Altern8's Infiltrate 202 followed by Comin' On Strong by Rhythm Section. If you want to listen to what I think is the sweet spot of this mix, start at about 2:25:00.
DJ JuJu has plenty of other mixes on his site (the last one uploaded on February 18th, 2010) so I recommend you visit his site and check it out! I'll be heading back there on occasion to see if he's put out any more compilations of some of my favorite classic tracks.