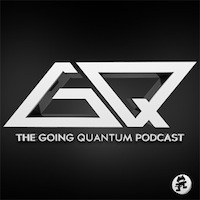 This morning I was pleased to see that another episode of the Going Quantum Podcast had appeared in my iTunes window.
This podcast is created by a Canadian guy (I think he's from Toronto, like myself) who shares mixes of a variety of different kinds of electronic music. He focuses on dubstep, electro, glitch hop, and drum and bass, and also invites a bunch of different guest mixers to provide mixes for the show. His shows tend to last about 40 minutes. I find it interesting the variety that he provides on his shows… a lot of producers or DJs tend to stick to a single genre, but this guy is a little bit all over the place (albeit while remaining within the realm of the electronic) – some of his mixes will start off in one genre and then switch to another when the guest mixer starts to spin.
In my opinion, the reason these podcasts are so great is because of the liquid dubstep mixes – dubstep with a melodic edge. Seriously, this stuff is great! The two mixes that I have found are the best of the lot are episodes 50 and 75. If you're into the melodic and the dubstep like I am, I recommend checking these two out.