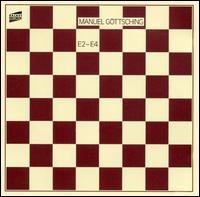 In his 20 questions interview, Alex Paterson of The Orb indicated that the song E2-E4 by Manuel Göttsching was his favorite piece of music. I hadn't heard this song before (or at least, I thought I hadn't) so I checked it out on this YouTube video. You can listen to its six parts from this initial link. Interestingly, the song seems to be named after a series of chess tournaments in the United Kingdom.
It turns out that I had heard this song sampled in several ambient music mixes… one of them, in fact, might have been by Alex Paterson himself. It was also sampled on the song Sueño Latino in 1989, which I remember well – in fact, the main loop comprises most of that song. E2-E4 is a complete classic of course… an extremely chilled piece of music that, while purposefully repetitive, is complicated enough that it does not (at least in my opinion) get boring.
The question I have is… how the heck was this song recorded in 1981? This song was clearly well ahead of its time, and inspired a great many different artists… in fact, some say that it inspired the entire house music and, afterward, techno music genres of the late 1980s.
A true piece of music history!