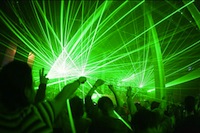 as evidenced by some of my previous posts, I've been on a bit of a retro kick lately, listening to a bunch of acid house and old skool music from back in the day – even going as far as to buy myself a x0xb0x to play around with the TB-303 sound. Yesterday I was idly browsing through the various podcasts available on iTunes and did a few searches for some acid music. And after a little bit of searching, I found some killer acid trance mixes!
Johan Nilsson, also known as DJ Irish, is a Swedish DJ who plays a lot of trance, hard trance and progressive. He also has a page of old skool mixes that are pretty incredible – these mixes are chock full of songs that take me back to the early 90s when I used to listen to a lot of this stuff. And they're all available for free mp3 download.
featured on the page of old skool mixes are three Acid Trance Classix mixes, some Inspirations mixes with some old classics thrown in there (Union Jack, Sven Väth, etc), and also some mixes of Labworks and Hardfloor tunes. I haven't listened to all of the mixes yet but looking the selection he's mixed in they're probably all pretty quality. I've really been getting into the Acid Trance Classix mixes – for some reason I especially like the third one.
I'll definitely be checking Johan's site now and again when I'm looking for that acid sound…