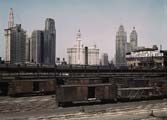 lately I've been jamming to some excellent old school house mixes, mixed by DJ Scott Miller, on the Classic House Mixes podcast site. As the site promises, they feature "over 25 deep, soulful, vocal, gospel, classic to fresh quality house music mixes and podcasts". This is all fine and good, but what it amounts to to me is a journey back to the year 1989, when house music was huge in Chicago and, among other places, Toronto (where I grew up).
I think the mixes are pretty good, though truthfully I was never (and am still not) as into "soulful, vocal house" as I was into the more dance-ready, club-oriented tunes generated by such producers as Steve "Silk" Hurley, Todd Terry Project, Royal House, and so on. Nonetheless, these mixes are definitely worth a listen, and will bring back some excellent memories, if you have them, of one of my favorite eras of music.
P.S. Because I get a lot of searches for this quote, I thought I'd mention here that "What we're gonna do right here is go back" was featured in the 1988 house music hit Weekend by the Todd Terry Project. The original sample, however, comes from the 1972 song Troglodyte (Cave Man) by the Jimmy Castor Bunch.
P.P.S. For more classic, vocal, acid and hip house, check out this more recent post.