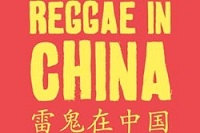 I found the Shanghai 24/7 podcasts on iTunes a while back; I had been searching for drum 'n bass mixes to listen to while working and found this one, a very good LTJ Bukem mix featuring some of his classics. Highly recommended.
after downloading this mix I checked out what else I could find on Shanghai 24/7's collection of podcasts and found a reggae mix featuring all Chinese artists (available for free download as mp3 or Apple m4a). At first I didn't realize it was created by all Chinese artists; I might not have downloaded it if I had. But I did, and when I listened to it in the car I was blown away by how strangely awesome it is – these are some very talented Chinese artists playing good reggae music, sometimes singing in English, sometimes in Chinese… one song, in fact, is by a Chinese group (Lions of Puxi) singing in French!
one interesting discovery – I studied Chinese as part of a Masters program and I was surprised that I was able to understand parts of some of the songs (and not just the songs in English, by the way!)… one song by Long Shen Dao, The Heart Guides the Way, was quite slow in tempo and featured some easy-to-understand phrases. So I would even recommend this mix to learners of the Chinese language.
be sure to check it out, and revel in the awesomeness that is Chinese reggae.