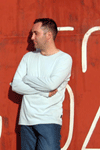 Steve Helstrip, also known as The Thrillseekers, is a British trance DJ and producer who has cranked out several great trance tracks including his breakout hit Synaesthesia, Escape, and most recently, City of Angels. He's a one man band whose professional title, The Thrillseekers, seems to indicate that there are in fact a whole bunch of people behind the scenes, and for some reason I can relate to that. Steve is also, at least from what I can see, a pretty nice guy; he's a family man who enjoys giving back to the dance music community.
one way that Steve gives back to the community is by providing music production advice and some free samples that he has used on his own tracks, that users are welcome to download and use in their own productions. You can get at these samples by registering as a member (for free) on his website. Hover over Communicate and click on Message Board, then find the Music Production link. There's lots of good stuff in there.
the thing I like best about the samples Steve provides (aside from the fact that I think they're quality) is that they were created for implementation in trance music. They're worth experimenting with; I'm sure there are a few in there that you can find a use for in your tracks!