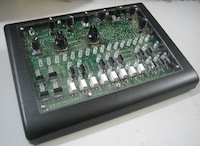 a few weeks ago I bought myself a x0xb0x synthesizer kit. The x0xb0x is a Roland TB-303 Bassline analog synthesizer replica that was reverse engineered by Limor Fried, the founder and engineer of Adafruit Industries, and a supposed unknown German engineer with an obsession for detail. The x0xb0x sources all of the original parts of the TB-303, including some very rare hard to find parts, and as such it is said to sound as close as you can get to an original Roland TB-303.
the way to get yourself a x0xb0x is to buy it as a kit of individual parts, including a case and faceplate, and then to solder the parts together. The kit is complete – all of the resistors, diodes, transistors, capacitors, LEDs, power supply, and rare parts that you need to create the synthesizer are included. From that point you're on your own – albeit with help and advice from the helpful people on the x0xb0x forums.
in the spring of 2009 Adafruit stopped sourcing x0xb0x kits, but fortunately a fellow named James Wilsey, an American living in Taiwan, started sourcing the kits from his site Willzyx Music. It is from Willzyx Music that I purchased my own kit, which at this point is still packaged in its box. Before constructing the kit I've been practicing my soldering skills on some much cheaper electronics kits. This is something I recommend for anyone new to soldering electronic circuitry who is looking to tackle assembling their own synthesizer… Check latina cam https://nudecamshd.com. I'd much rather fry a cheap hobby kit than to destroy some of the rare parts that come with the x0xb0x kit!
a few x0xlinks:
and, a couple of my favorite acid songs: